Kalispell Auto Group | School Raffle Fundraiser
Congratulations to last year's winner, Sally T!
Every school year, Kalispell Auto Group donates a new vehicle to local Flathead Valley Public Schools. This year; Kalispell Toyota, Kalispell Ford, and Kalispell VW have once again opened up the raffle to all of our local public schools, with the option of winning a new Ford Escape, Toyota Rav4, Volkswagen Taos, or a $30,000 NEW vehicle credit. The public schools and organizations within can sell $10 raffle tickets to support their schools and programs! Absolutely no money goes to Kalispell Ford, Kalispell Toyota, or Kalispell VW – 100% of the proceeds stay with our schools! Flathead Valley Public Schools have raised on average $80,000 each year for their schools and activities. That's over $1,000,000 raised since the program's inception! The drawing took place during the Cross-Town basketball game at Flathead High School, on February 16th, 2023. This year we sold a total of 10,566 tickets providing $105,660 to our local Flathead Valley schools. Tickets are available for purchase at Kalispell Ford, Kalispell Toyota, Kalispell VW, or at participating public schools.
If you would like to have a Rav4, Taos, or Escape at your next event, or to get your school to participate, please contact our marketing department.
Current Participating Schools:
Kalispell – School District 5
Columbia Falls – School District 6
Whitefish – School District 44
Olney-Bissell – School District 58
Somers/Lakeside – School District 29
West Valley – District 1
Deer Park – District 2
Marion – District 54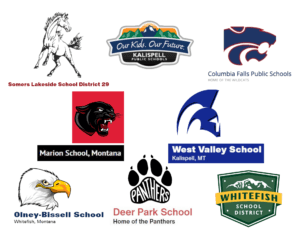 Truck Raffle Contact Enrollment Form